My mother is a marvelous cook, the sort of cook who seems to have this preternatural sense of when something is "just right", be it dough, broth, or batter. I, on the other hand, need detailed directions with pictures or my mother a frantic phone call away talking me through her gravy recipe
again
. I've been so envious of what has always seemed to be completely natural culinary instinct, which I did not inherit, but have realized it is actually the result of years of patient trial and error using
cookbooks
. She still pulls out a Martha Stewart Living, or Artisan Breads in 5 Minutes a Day, or a well-worn 3x5 card penned in her neat script (something else I did not inherit) for a recipe she has been preparing for decades. I can picture her cooking library lined up neatly on top of the pie safe. I loved browsing their flour-dusted spines, pulling them off the shelf to look at the sumptuous images and reading the cryptic instructions to mince, temper, proof, etc. The thought came to me recently while I was shelving, as thoughts have a way of doing then, (trade secret: shelving can be a very meditative experience) that I should test-drive a handful of our wonderful collection of cookbooks available at Ginter Park to find my own flavor and to start compiling my own library of trusted recipes.
Classic Spanish Cooking: Recipes for Mastering the Spanish Kitchen
by Elisabeth Luard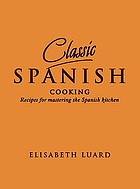 This book presents traditional Spanish recipes to perhaps more confident cooks than me. The directions are minimal and seem to assume a lot of prior experience with the ingredients, such as the time and temperature requirements for short grain rice. Still undaunted, (no, slightly daunted) I opted to try out the arroz a la cubana, or Cuban rice, recipe because I love fried plantains and I already had the tomatoes pureed. Ultimately it was simple enough and fortunately I've prepared risotto before, which operates similarly, so I could make educated guesses as to the missing directions. The result was great! It was rated quite highly by Peter, my taste tester, and seemed pretty healthy at least in keeping with the Mediterranean diet I have been reading so much about, so I would definitely incorporate this into my culinary repertoire and I will definitely try another recipe from this book.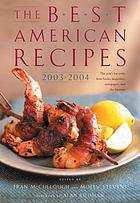 The Best American Recipes 2003-2004
, ed. by Fran McCullough and Molly Stevens
This series compiles the most highly reviewed recipes each year from sources such as
The New York Times and House Beautiful.
I love the little "cook's notes" the editors add which are
special caveats included with certain recipes
. I made a simple "escarole and little meatball soup" (minestra) because I love miniature things and "little meatballs" sounded a-dor-able. It was very easy and inexpensive, using ingredients I had on hand already, but it was a little spare in flavor, so perhaps it would be a good canvas for experimenting with seasonings. I liked it for the potential; Peter thought it was just OK. Alas, I am aware of my limitations and overall these cookbooks are great.

I am new in town from Cincinnati so I wanted to try something local and this certainly fit the bill. Intimidated by all the ways to prepare ham, I got cook-shy and ended up choosing a recipe for rice croquettes, sometimes called arancini, that looked like a simple way to use up leftover rice. I opted to use some leftover risotto rather than the long-grain rice the recipe calls for, so I basically ignored the recipe completely but the result was every bit as good as I had hoped and the book itself is an informative collection of local culinary history and customs so it is well worth a read. And anyway, the rice croquettes provided a nice side dish for the recipe I tried from
the next
book.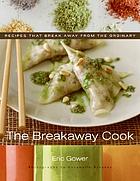 The Breakaway Cook
by Eric Gower
features beautifully photographed results of recipes with gorgeous, exotic, and sometimes difficult to find, ingredients. I selected a recipe with a short ingredient list: the baked peas with tarragon, yogurt, and pistachios. I found it to be fabulous and Peter agreed. With such fresh, light, and flavorful ingredients, (yogurt, tarragon, peas, pistachios, scallions and olive oil) it brought summer to mind, and then it snowed. Spring is finally springing though and I am so ready to dine outdoors again! I will definitely be making this dish again.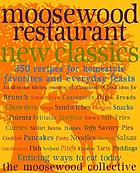 My mother has a Moosewood cookbook, so this was sort of a nostalgia checkout for me; I can't walk past this book on the shelf without thinking of her. Nobody does vegetarian cooking better than these guys, seriously. Fare that can often be sad, bland veggies with under-heated grains is transformed into food so flavorful you won't miss the meat. I made the curried quinoa because it used up all the leftover peas from the recipe above. It paired well with a leftover chorizo soup and some homemade bread. Hungry yet?