I've been waiting for this all year. The leaves are turning, the days are shorter, decorative gourds are EVERYWHERE. It's time for round-the-clock scary books and movies at my house. Halloween is in, like, 2 days! TWO. DAYS. Can you believe it? I'm knee-deep in falling foliage and pumpkin spice EVERYTHING, fiendishly devising ways to strike terror in the hearts of little trick-or-treaters. If you are still craving something terrifying to read under the covers, alone with nothing but a flashlight in a creepy, creaky old house, then bolt the doors and check out a few of these RPL bloggers' favorite thrills and chills!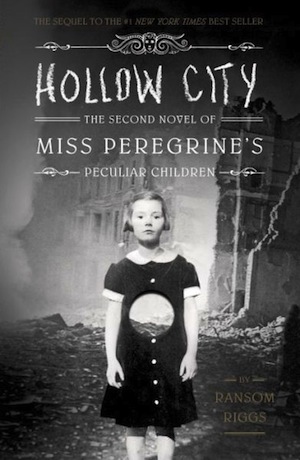 Natasha
: "I recommend Ransom Riggs!!! Both books,
Miss Peregrine's Home for Peculiar Children
and
Hollow City
." The reason why I am obsessed over these two YA reads is because of the eerie mysteries that coexist with the involvement of the characters in these stories. The photography is wonderful as well and brings an alluring element to the books. I am really looking forward to Tim Burton's film adaptation to the first book.
Ellen
: "Here's one I bet none of you has read: "The Night Country" by . . . wait for it . . .Stewart O'Nan! (He can do ANYthing.) On the Halloween a year after three teenagers are killed in a horrific wreck, they come back to finish the job. Move over Ray Bradbury and Shirley Jackson: something wicked and deliciously scary, and literary to boo(t)" - (sorry, couldn't resist.)"
Tonya
: "I recommend anything by Ransom Riggs and Dan Wells (the "I am a Serial Killer" trilogy.) Also Rick Yancey's Monstrumologist series is brilliant."
Natalie
:
Roadside Picnic
by Boris and Arkady Strugatsky gives me chills! This Russian sci-fi novel originally published in the Soviet Union in 1971 has been newly re-translated and restored to its uncensored glory. An advanced alien race temporarily set up shop somewhere in Canada and has since evacuated, leaving behind dangerous and mysterious alien stuff. Terror ensues as people known as "stalkers" try to collect and study the extraterrestrial refuse. It inspired the Andrei Tarkovsky (
Solaris
) film
Stalker
, and apparently a video game of the same name.
It
by Stephen King is insanely scary. The novel about a terrifying clown terrorizing children usually needs little introduction. Just say "They all float down here" and watch people shudder. Egad I'm still creeped out and I read it 20 years ago. (Fun fact: I enjoyed a brief correspondence with The King when I was a wee 12 year old library patron. I wrote to Mr. King to ask him for a list of all the books he had written because I was going to read them all and wanted to do so in chronological order. He replied promptly with a complete list. I followed up to suggest he write more stuff like
The Langoliers
because it was my favorite
and
it wasn't too long. He wrote back to thank me for the suggestion. Emboldened by two replies I wrote again, this time to extend a formal invitation to a Halloween party at which,
of course
, he would be the guest of honor, but he had to wear a costume. He declined. In a fit of pique, or perhaps simply embarrassed by my own earnestness, I destroyed the letters.)