You know about
Pinterest
, right? It's the social bookmarking site with visual appeal that is so popular with people planning weddings, DIYers, and those on the never-ending quest for self improvement. Pinterest is basically just one giant crowdsourced self help book, and you know self help is already big business. Take
The Life Changing Habit of Tidying Up
for instance. That HUGELY popular little book with a simple premise (spoiler alert): get rid of stuff and organize what's left, is making the rounds at the library and on blogs and Facebook and probably Pinterest too.
So here's a DIY Pinterest hack from us to you:
Selfie-help
. You write your
own
self help book using Pinterest. All of your chapters are there already laid out as pinboards. You've got crafts, exercises, recipes, home improvement, life changing cleaning hacks, affirming and motivational phrases superimposed upon pleasingly filtered photos of sunsets over water...
Once you get tired of hunching over your laptop, pinning all the crafts, stretch your legs and head over to the library to begin practicing the art of better living through upcycling, organizing, cooking, and positive thinking with these picks fresh off the new books shelf. (But we think you're fine just the way you are.)
Right Size...Right Now!
Regina Leeds wants to help make your impending move not only
less
stressful, but STRESS-FREE as the cover text emphatically states, through an 8-week plan to organize and declutter. I can suggest right off the top without even opening this book that step one is "Check this book out at your local public library unless you want to pack and move
another
!@#$% book (why do you have so many books?)!" Along with helpful step-by-step guidance and many different checklists, Leeds also includes a weekly "self care tip" to keep your gears turning smoothly as you process your life and reduce your trappings, an emotionally and physically demanding process for many. So don't pack your yoga mat or smoothie blender just yet! Personally, my approach to moving has always been the "Hefty Method". If you guessed that this involves shoving my entire life into garbage bags, you would be correct. Whatever wouldn't fit in my college hatchback was already prepped for the curb!
Ahem
.
Right Size...Right Now!
is great for folks too long on the waiting list for
The Life Changing Magic of Tidying Up
, especially those confronted with a tower of stuff, stuff, and more stuff, to pack and move in 8 weeks or less.
The Little Spark: 30 Ways to Ignite Your Creativity
Don't
buy
it,
make
it. But do you feel like you lack the creativity to be part of the DIY revolution currently underway? Are you the only one on your block without a creative hobby? Do you spend hours Pinning crafts onto boards with names like "Maybe Someday!" or "If I ever find the time..." or "Maybe if I spent less time on Pinterest and more time with my glue gun I could make some of these projects"? Do you need an instructional, step-by-step, how-to, illustrated nudge to ignite your creative spark? Then this is definitely the book for you. It's like
pre-
crafting, with "30 ways to cultivate a creative life and fill your days with a passion for living" you're sure to come away from this book with at least one or two projects started. Feel the rush of inspiration as you "Break your own rules" (Spark # 10). Perhaps you always buy the same vegetables; try buying an eggplant if this is unusual behavior for you, then look up a recipe on Pinterest for eggplant.
The Little Spark
begins with attacking your clutter too, so get ready to purge. Getting organized and clearing out your space will give your inspiration room to flourish so you can create...stuff? Well, you can sort all that out later.
.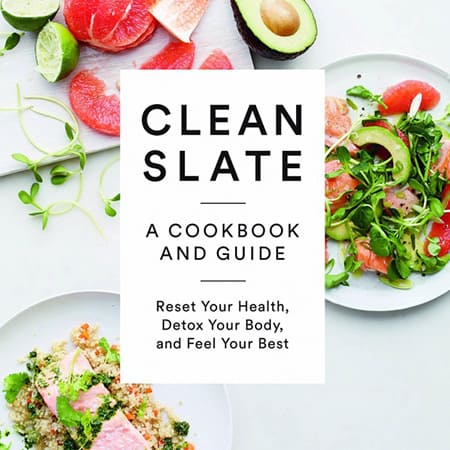 Clean Slate: a Cookbook and Guide
Your body is cluttered too and that is holding you back. What is it cluttered with? The filthy toxic remnants of your terrible diet. (It's ok, me too.) Wipe your Taco Bell sullied palms on your pants before you pick up this book, then wipe your slate clean with help from the editors of Martha Stewart Living. It isn't enough to feel
ok
, or even
well
; one needs to feel their
best,
if such a thing is possible. How do you know what your best is? You don't. That, my friends, is the purifying Sisyphean struggle of self-actualization: better living through better living. On the surface,
Clean Slate
is capitalizing on the "detox" trend, but inside a Pinteresting package of attractive grapefruit arrangement and bourgeois "ancient" grains (what grain isn't ancient?) is a simple cookbook. The recipes are mercifully unfussy, the steps are few, and some of the more esoteric ingredients could easily be substituted by more abundant, and equally "clean", farmer's market finds. The emphasis is on fresh, natural, whole foods, and meals centered on vegetables and whole grains, lean meats, and variety. Special diet compatible attributes such as gluten-free, nut-free, meat-free are clearly indicated below the pictures, and there is a picture to accompany every recipe. These are simple, colorful, light dishes that seem easy to prepare, even for cooks like me. A few look to be influenced more by photogeneity than edibility but Instagram is ruining eating by turning every diner into an amateur food photographer so you can expect this trend to continue for the foreseeable future. You want the truth? Salad photos look less gross than burger photos, and your body probably agrees. #realtalk
Homemakers
This "domestic handbook for the digital generation" offers "1,000+ creative ideas for the home". Holy cow. That's a lot of ideas. The book cover looks like the Ikea catalog, and Brit Morin is sort of a hybrid of Hello Kitty and Martha Stewart, but with a (rainbow) sprinkling of Emily Post meets Sheryl Sandberg.
Homemakers
takes the "Maker" movement and applies it to acts of domesticity, so the title is to be read both ways: Homemakers and Home (space) Makers. In the dining room chapter, Morin has 3D printed napkin rings on a page facing origami napkin folding techniques, followed up by table setting tips and towel "hacks", several pages devoted to gadgets and apps related to entertaining in the home, and finally, the crafts. She's got all the hair and nail trends you need, plus duct tape organizers, egg recipes, lots of contact paper ideas, and plenty of visual charts. This book is about celebrating creativity, balancing the digital and analog, and being happy at home. If you read this and thought "Gosh, that sure sounds like the print version of Pinterest" you and I think a lot alike. She has one suitcase packing
hack
in there that is straight off my "D-I-Why didn't I think of that?!" pinboard (see what I did there?): Pack your dirty shoes in a shower cap! Brill. Of course she packs her cute glitter shoes in a cute polka dotted shower cap and it looks really cute in her cute vintage suitcase.
cute.
Oh Joy!
I am physically incapable of saying "Oh Joy" without sarcasm. Come to think of it, I struggle to breathe without sarcasm. I think there's probably a chapter in one of these books that will address that problem.
Oh Joy!
is bubbling over with bright and precious whimsical decorating ideas and earnest glittery glee. The book boasts "60 ways to create and give joy", many of which also involve contact paper. I had no idea there were so many colors and varieties of contact paper. Apparently contact paper is the new washi tape which was the duct tape of 2013. Adhesives are kind of having a moment. (Note: you're gonna need to get some contact paper in cheerful colors.) She also has washi tape crafts in case you have some of that hanging around still. Sprinkled among the crafts and decorating ideas you'll find suggestions for ways to create joy in your own life. "Visit fun and inspiring places" like candy shops, "look upside down" at things like ice cream, and "group things in clusters", things like tiny umbrellas on a cake. This books proudly declares that glitter really
is
forever and that is just swell.
Oh, joy, a card full of glitter. You shouldn't have.
Sustainable Happiness: Live Simply, Live Well, Make a Difference
The staff of
Yes!
Magazine are really excited about exploring real happiness for you. Real happiness, happiness that one can sustain for long periods, even through those times when you favorite show ends (remember how you felt when
The Wire
concluded?), comes from making the world a better place for everybody. This collection of short essays doles out some practical and some philosophical advice for ways to improve your existence, moving yourself in the direction of "real" happiness. Meditate on topics such as greeting strangers, meeting your neighbors, buying less and unplugging more, and see just how easy it is to make small changes that can lead to big differences. This is another book that suggests buying less and we couldn't agree more! Check this book out at the library. We bought this one already so you don't have to.