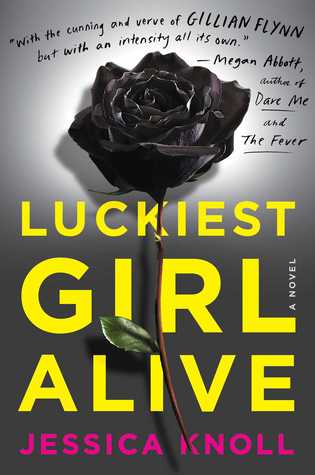 In a fit of new-book-smell induced panic I decided to take on these two very different New York City novels at once: First, the pure candy that is
Luckiest Girl Alive
by Jessica Knoll, and then the
gigantic
, satisfying, 900+ page
City on Fire
by Garth Risk Hallberg. Delicious, both.
When Meghan Abbott mentions Gillian Flynn on your jacket copy you have officially arrived at cool-girl-table-adjacent.
Luckiest Girl Alive
, a novel of tooth and nail deception and social climbing into New York society will appeal to fans of (naturally) Meghan Abbott, Gillian Flynn, Paula Hawkins, and the rest of the table. This makes for good tawdry listening while tidying up and doing other unglamorous activities. I recommend getting the audiobook.
Readers will also enjoy
Confessions
by Kanae Minato,
A Small Indiscretion
by Jan Ellison, and
Disclaimer
by Renee Knight. Hopefully this little jawbreaker didn't spoil your appetite for
City on Fire
.
City on Fire
is set in New York City in the 70s and part epistolary, with snippets of letters, interviews, and zines, so already it's well on its way to my "all time favorite books list". Hallberg is a magician with words--there is a passage on page 53 in which he describes the "audible fizz" one hears when the potential for a moment is irretrievably lost. I had to go back and re-read it,
twice
. Multiple narratives in authentic voices from wealthy heiresses and young gay men, to cops and cultish punk squatters converge over the "muchness", as Hallberg puts it, of New York, in his debut novel revolving around an unsolved shooting and the terrifying blackout in July of 1977.
This book is huge, both in terms of size and the $2 million price paid to publish it. It is THE book of fall.