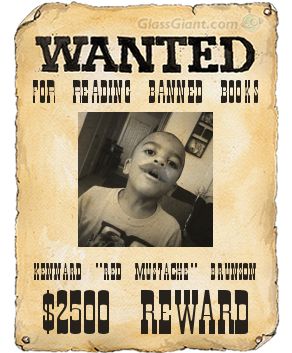 The outstanding offspring of Natasha the Artsy Librarian
This year National Banned Books Week is raising awareness about banned and challenged comics and graphic novels. Comic books and graphics novels are loved by people of all ages. Celebrate your freedom to read the week of September 21-27 at participating branches: Belmont, Ginter Park, Broad Rock, North Avenue and the main library. Enter the Banned Books Week Trivia Challenge for a chance to win two free Byrd Movie Theater tickets courtesy of the Byrd Theater, check out our creative displays of the most frequently challenged books, and pose with your favorite challenged book for a Wanted Poster Picture!
Pictured below are just of a few of the graphic novels and comics most frequently challenged:
The Color of Earth by Kim Dong Hwa
,
Maus
by Art Spiegelman,
Sandman
by Neil Gaiman,
The Watchmen
by Alan Moore,
Tank Girl
by Alan Martin and Jamie Hewlett,
Persepolis
by Marjane Satrapi,
Blankets
by Craig Thompson,
Captain Underpants
by Dav Pilkey, and
Bone
by Jeff Smith. For more information visit
The Comic Book Legal Defense Fund
and
The American Library Association's Office of Intellectual Freedom.