From "Letters of Note", a most worthwhile time waster of a site (and also now a book, too)
As I embark upon what must be the fourth or fifth epistolary novel I've read this year it occurred to me to devote a little blog ink to the genre. Not gonna lie to you guys, I LOVE the form in all of its many, er, forms. I am completely enchanted by a narrative unfolding through (fictional) documentary evidence. I just picked up The Supernatural Enhancements by Spanish novelist Edgar Cantero. Though it may sound like the literary equivalent of those low budget "found footage" horror films so common these days, this haunted house story set in Virginia, told through journal entries, hand-written notes, transcribed security footage and audio recordings, letters, complicated ciphers, and advertisements, promises to be far less sick-making than that erratic, handheld film style.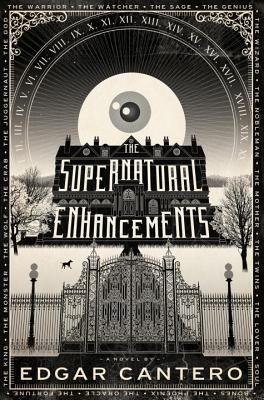 So just what is an epistolary novel? It's a story told using documents such as diary entries, letters, emails, text messages, newspaper articles, web pages, scribbled notes, marginalia, pretty much any other kind of evidence you might imagine that could be strung into a narrative. One might suppose that with kids these days and the death of handwriting so goes the epistolary as well. Not so! There are a TON of these out there, some better than others, many capitalizing on zeitgeist to propel the narrative. Take for instance the Lauren Myracle series of YA books so popular a few years ago, ttyl, which was written in the form of online instant messenger conversations. And who was it that mused that the great American novel would be written on a cellphone? I personally would LOVE to see a novel written entirely in the form of incendiary YouTube comments or in a drama unfolding on Facebook. How about a novel about minor celebrity and major egos told entirely through Wikipedia article edits and the ensuing flame war on the talk pages?! Could somebody please hurry up and write that? Maybe I should...hmm.
Well, moving on:
Gorgeous, powerful, moving, best book of the year,
The Blazing World
has
a
permanent home on the "Staff Picks" shelf at Ginter Park (unless it's checked out of course). Assembled from
diary entries, articles, interviews, and correspondence,
the book appears to be the research project of an art historian investigating the life and career of artist Harriet Burden. It's poignant, humane, deeply insightful, and absolutely wonderful.

Dear Committee Members is a petite novel composed entirely of academic letters of reference from a brutally honest professor of creative writing who is overburdened with having to write so many letters. This slyly sensitive book is almost unbearably funny. I nearly choked to death reading this on my lunch break. If you are an academic, or love an academic, or are someone frustrated with the realities of today's academic landscape, job market, or some combination of all of the above, this will hit especially close to home.
Told through transcribed interviews conducted by the author, Jesse Ball, Silence Once Begun is a journalist's investigation into the "Narito Disappearances", a baffling crime with an equally baffling confessor at its center. While at times the epistolary device bordered on gimmicky, the story was so compelling one can easily forgive a little awkward construction.
Where'd You Go, Bernadette? is less recent (2012 was SO two years ago) but I couldn't write this post without including it. Maria Semple's epistolary charmed my socks off. Bee's mother disappears on a family trip to Antarctica. To find her, Bee compiles email, letters and other documents supporting her belief that her mother is out there, somewhere, needing to be rescued.


Some well-known epistolary novels to consider:

Carrie by Stephen King
letters, excerpts, clippings, articles
Go Ask Alice by Anonymous*
Griffin and Sabine by Nick Bantock
beautifully illustrated correspondence
Dracula by Bram Stoker
The Perks of Being a Wallflower by Stephen Chbosky
letters to an anonymous stranger
Bridget Jones's Diary by Helen Fielding
Flowers for Algernon by Daniel Keyes
laboratory progress reports written by the declining subject (Oh! The tears!)
The Color Purple by Alice Walker
Super Sad True Love Story by Gary Shteyngart
We Need to Talk About Kevin by Lionel Shriver
ttyl, ttfn, and l8r, g8r, by Lauren Myracle
84, Charing Cross Road by Helene Hanff
Dear American Airlines by Jonathan Miles

Got a favorite? Add it in the comments!

Yours truly,

Natalie

*P.S.
Go Ask Alice is perhaps the one that hooked me. It is the over-the-top melodramatic "found" diary of a teenage girl spiraling out of control in a miasma of sex and drugs. It's a pretty wild trip and I totally bought that it was a real diary.