I'm a Stranger Here Myself
by Bill Bryson
Sometimes I wonder if a book still holds up after a bunch of years. I read this in college (kind of a long time ago) and I distinctly remember laughing so hard I did that thing where you laugh so hard you don't make any sound and also cry a lot. Or is that just me? I'm pretty sure it's still funny even after all these years. Bill Bryson doesn't always hit his target but this book about his observations on returning to the US after decades abroad is outrageously funny. A perfect read for those times when you're feeling a little weird and just need some perspective.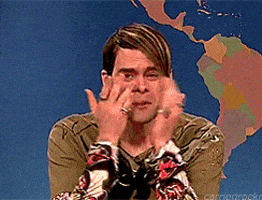 Oh Stefan...
Midnight in the Garden of Good and Evil: A Savannah Story
by John Berendt
I read this on an airplane and was nearly thrown off mid-flight for snorting so unattractively. It's a sinus thing? I
craughed
(see below) and people may have switched seats. Anyway, this well known story of a murder trial in Savannah with the best cast of characters in narrative nonfiction
ever,
is still one of my most recommended books for just about anybody.
How to Be a Woman
by Caitlin Moran
This book is a brutally honest, painfully hilarious memoir about being a woman written by the funniest woman in the universe. The whole universe, you guys. Read
How to Build a Girl
too if you don't believe me. I'm not going to hear any arguments from anyone--I will just walk away as if I am an action hero and anyone who disagrees the proverbial burning building. (See below)